Revised 1/29/18
Dani's Glass Design
2017-18
Because of health issues and to be closer to her grandchildren, Dani and her husband moved to Beech Island, SC in December 2016. (Beech Island is a small area in the CSRA near Augusta, GA and North Augusta and Aiken, SC.) This move necessitated creating a new studio for her in a converted storage shed. The new studio is 1/3 larger than her old one which will allow her to teach small classes.
Dani is checking out various possibilities to show and sell her creations in the Augusta and Aiken area.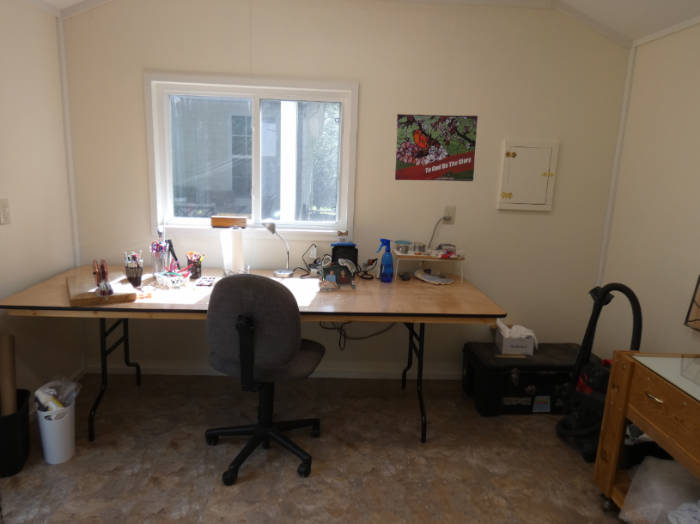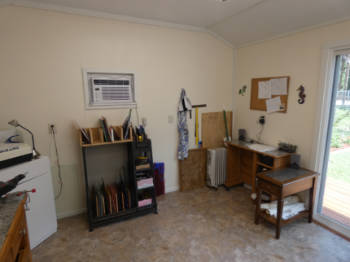 Because of the time required to settle in her new home and the time needed to create and set up her new studio, she didn't have too much time to do glass work in the first half of 2017. She was able to create a commissioned ribbon horse and an angel as gifts. They are similar to the ribbon horses in slides 12 and 14 and the angels in slides 1, 2, 8, and 11 completed in 2015 and 2016 although they differ in colors.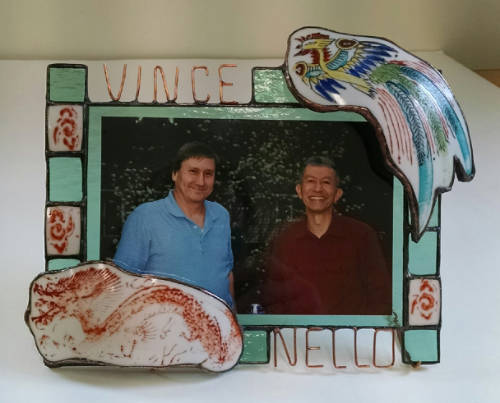 Click for a larger image
In early August she completed an unusual commissioned work. A friend's husband, Vince, was good friends with a gentleman, Nello, who had died recently. Nello had given Vince a rice bowl which unfortunately broke. His wife commissioned Dani to create a piece that celebrated Vince and Nello's friendship and gave it to him as a surprise gift. It incorporates a picture of the friends, their names in copper wire, and three small and two large pieces of the bowl.
This piece was made as a donation for a silent auction in our old home town of Mossyrock, WA.

(The eagle is not an original design but the preexisting pattern was altered to reflect Dani's work and ability to stand in the oak block.)
Click for a larger image
Seattle Seahawk fans will have no trouble recognizing that this piece, "Seahawk Eye", celebrates the team.
Click for a larger image.
"Scottish Claddagh" is an intricate commissioned piece. The ring is composed of Celtic knots. Hands hold the heart shaped Scottish thistle. The photo does not really show that the cross work on the thistle body and veins on its leaves is actually a copper wire overlay.
Click for a larger image.
"Auburn University Eagle" was commissioned by a avid fan and graduate of the univerity after viewing a picture of the American Eagle shown above.

Click for a larger image.